Welcome to the fifth Windows 365 Community newsletter! We highlight weekly Windows 365 news, tips, and tricks along with announcements from the world of the Cloud PC.
Let's have a look at this week's news from Windows 365 Cloud PC.
Microsoft Meets Community - Windows 365

In just four days, Microsoft Meets Community will go to the next round featuring an incredible set of community experts and Microsoft Engineering! 
The speakers are Scott Manchester, Ben Whitmore, Donna Ryan, Patrick Köhler, Anoop Nair, Ankur Biswas and Christiaan Brinkhoff as well as Christian Montoya!
We, as the Windows 365 Community are happy to contribute with a few sessions and hope you made sure to register up! If not, please find the link here: https://techcommunity.microsoft.com/t5/windows-events/microsoft-meets-community-windows-365/ev-p/2679347
Public preview of Windows 365 Endpoint analytics
Connect to your Cloud PC from your iPad running iPadOS
This week, Christiaan showed us again how flexible you can be in terms of devicces to connect to your Windows 365 Cloud PC. This week he shows a video on how to connect from an iPad! 
STICKERS GIVE AWAY! I just received the first batch of #Windows365 stickers to give away during events. I know events are a bit difficult due to the circumstances, but I want to give away some per mail ✉️! Respond below if you want one, you might be lucky 😉! pic.twitter.com/2ceCylNsDB

— Christiaan Brinkhoff (@Brinkhoff_C) September 4, 2021
Fresh new stickers arrived at Christiaans place and he started a shoutout, who wants to receive some stickers to give away to the community! If there is still a chance you should use it and communicate that via Twitter! The tweet is referenced above!
Windows 365 Cloud PC Audit Logs
Our very own Anoop has written another great blog post on how to gather Cloud PC audit logs through the MEM admin center portal.  He is outlining the details that you can review and explains how you can delete stale records, which can be set out quite easy. Want to learn more? Check out his post here: Windows 365 Cloud PC Audit Logs HTMD Blog (anoopcnair.com)
How to Reprovision Windows 365 Cloud PCs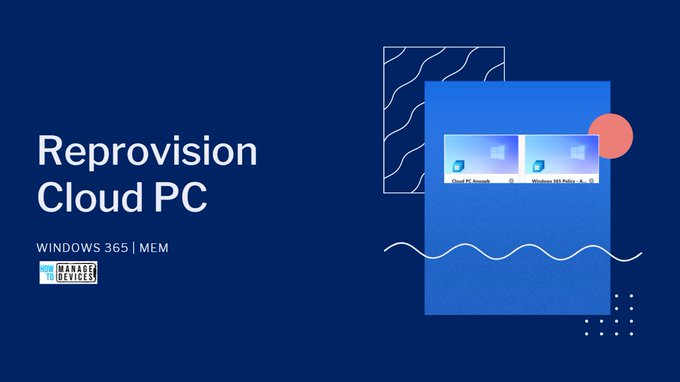 Another great post by our very own Anoop on how to reprovision your Cloud PCs for your end users. Anoop points out to a very important fact, to keep user profiles backed up, because of possible data loss when reprovisioning the machine. Read the full article here: How To Reprovision Cloud PC Windows 365 HTMD Blog (anoopcnair.com)
Learn How to Resize Cloud PC Windows 365
Performance Optimisation and benchmarking
This week, Ryan Mangan presented a great session at the UK AVD User Group about performance optimisation and benchmarking for Windows 365 and Azure Virtual Desktop. Please find the session referenced above!
Windows 365 Cloud provisioning scenarios
Microsofts Steven DeQuincey has published an article on how to provision cloud PCs in different scenarios. He walks through provisioning by location, different user personas, giving users multiple Cloud PCs, updating a provisioning policy and moving users between policies. This is really a great article that I highly suggest you to have a look at! Please find it here: Windows 365 Cloud PC provisioning scenarios – Microsoft Tech Community
Introducing Windows 365 Cloud PC
And we have another community article, which explains the new service offering Windows 365 by Chris Jeffery. The article has been published via LinkedIn and can be read here: Introducing Windows 365 Cloud PC | LinkedIn
Searching for your dream job at Microsoft?
And that's it for this week! We look forward to what's coming up next week and keep you updated on our Content Hub!