Welcome to the Eleventh (11th) Windows 365 Community newsletter! We highlight weekly Windows 365 news, free events, tips, and tricks from the world of the Cloud PC.
Let's have a look at what's new this week!
What's new in Windows 365 Enterprise
Resize support for preview and trial licenses
If you have a combination of paid and free trial licenses, the Resize remote action will use your paid licenses first. When those run out, it will use your trial licenses.
Health check improvement
The DNS can resolve Active Directory domain health check has been improved.
Windows 365 Administrator role
The Windows 365 Administrator role is now available for admins by using role assignment in the Microsoft Endpoint Manager Admin Center and Azure Active Directory (Azure AD) for Windows.
More Details ➡️ What's New in Windows 365 Enterprise
How to Reprovision Cloud PC Windows 365
Let's learn how to reprovision Cloud PC from the Microsoft Endpoint Manager Admin Center portal. You can also learn the exact experience of reprovisioning a Cloud PC is. How much time it's going to take to perform the remote action called reprovision.
More Details ➡️ Anoop C Nair – How to Manage Devices
Mastering Microsoft Endpoint Manager – Breaking Records
Congratulations to Christiaan Brinkhoff and Per Larson for setting a record with their new book "Mastering Microsoft Endpoint Manager". If you haven't purchased a copy yet, you have a chance to win a free copy!
More Details 👉 How to win a free copy!
Christiaan Brinkhoff to speak at DISRUPT Unite 2021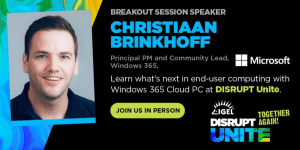 Christiann Brinkhoff will be speaking at DISRUPT Unite in New York about Windows 365!
More details ➡️ DISRUPT Unite 2021
Introducing Windows 365 – The Cloud PC
Donna Ryan presented to the WinAdmins group a session called "Introducing Windows 365 – The Cloud PC". If you are still new to Windows 365, give this video a watch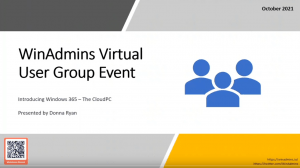 Watch it Now! ➡️ Introducing Windows 365 – The Cloud PC – WinAdmins YouTube
Windows 365 Team is Hiring!
Principal Software Engineer – Windows 365 Control Plane
You will lead new initiatives for the technical direction and vision for Windows 365 Control plane infrastructure and backend services that scale and perform to power the connectivity from heterogenous physical devices (Windows, iOS, Android, Linux) to millions of cloud native devices. You will work across organizations, collaborating with internal partner teams such as Azure ACS team, Azure Networking team, Azure Virtual Desktop team, M365 IC3 team, Core Operating Systems team, Microsoft Identity team, and others. You will provide strong leadership for the architecture of secure, distributed, scalable, and resilient services using modern technologies to drive scalability and seamless connectivity for the control plane. You will raise the technical bar, maintain a data and results driven culture, and nurture a high performance team to build world-class experiences.
To Apply ➡️ Principal Software Engineer – Windows 365 Control Plane