Welcome to the thirty-third (33) Windows 365 Community newsletter!
We highlight weekly Windows 365 news, free events, tips, and tricks from the world of the Cloud PC.
Let's have a look at what's new this week.
How to optimize the first end-user experience


Christiaan Brinkhoff Has written a great blogpost on how to optimize the first run end-user expierence.
Would you like to have the Remote Desktop for Windows client automatically log into your Windows 365 environment to start a Windows 365 Cloud PC session?
Read the full post by Christiaan Brinkhoff: Optimizing the first Windows 365 Cloud PC end user experience
Windows 365 Cloud PC point-in-time restore


Sean McNeill Has written a run through of the newly annonced public preview feature for point-in-time restore.
Earlier this month, Microsoft announced a new public preview feature for Windows 365, point-in-time restore . He covers a run down of the process for a quick understanding, first impression and a great visual guide.
Read the full post by Sean McNeill: Windows 365 Cloud PC point-in-time restore
Official powershell scripts repo for Windows 365


Donna Ryan Has setup a github repo – Windows365-PSScripts.
The project contains Windows 365 related remediation or enhancement scripts to provide IT Admin better experience while managing CloudPC. This is a great way to share your scripts with the community.
Check out the project by Donna Ryan: Windows 365 related scripts for IT Pros
Windows 365 Cloud PC managed by 10ZiG & Microsoft Endpoint Manager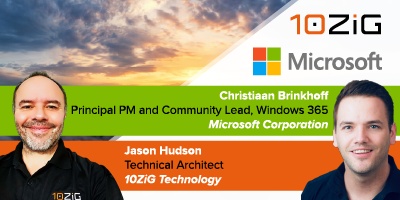 Jason Hudson and Christiaan Brinkhoff is conducting a live webinar.
The webinars are scheduled for the following dates, don't miss your chance to signup for some great live content.
In this session you'll learn how to create the full Windows 365 Cloud PC experience, delivering it with 10ZiG Thin Clients and how to seamlessly manage them with Microsoft Endpoint Manager.
April 13th 2022 – REGISTER HERE
8:00-9:00 PST – 11:00 – 12:00 EST
16:00-17:00 BST – 17:00-18:00 CEST
Read the full details here : Windows 365 Cloud PC managed by 10ZiG & Microsoft Endpoint Management (MEM)
Microsoft Teams Live Captions GA on Windows 365

Yun Lui has happily announced that Live Captions are not generally available in Team on Windows 365. This is a great news, especially if you prefer visual cues and to ensure everyone can follow a conversation effectively
Read the full details here by Yun Lui: Microsoft Teams Live Captions generally available on Windows 365
How to Back and Restore Windows 365 Cloud PC – Point-in-time-restore


Jitesh Kumar has written an awesome guide where you will learn, to configure and use point-in-time restore, as well as covering risks and results of restoring.

Read the full article here by Jitesh Kumar: Restore Windows 365 Cloud PC – Point-in-time restore