Welcome to the first-ever Windows 365 Community newsletter! We highlight weekly Windows 365 news, tips, and tricks along with announcements from the world of the Cloud PC. This is an extraordinary week for Windows 365.
Microsoft announced the general availability of W365 on 2nd August 2021. The community was so excited about the general availability and free tail possibility of the Cloud PC.
W365 Community Update
We have announced the W365 community on the 3rd of August 2021 to help Windows 365 community with the latest update from the world of Windows 365. You can read the full post here -> Welcome to the brand new Windows 365 Community! – Windows 365 Community (w365community.com)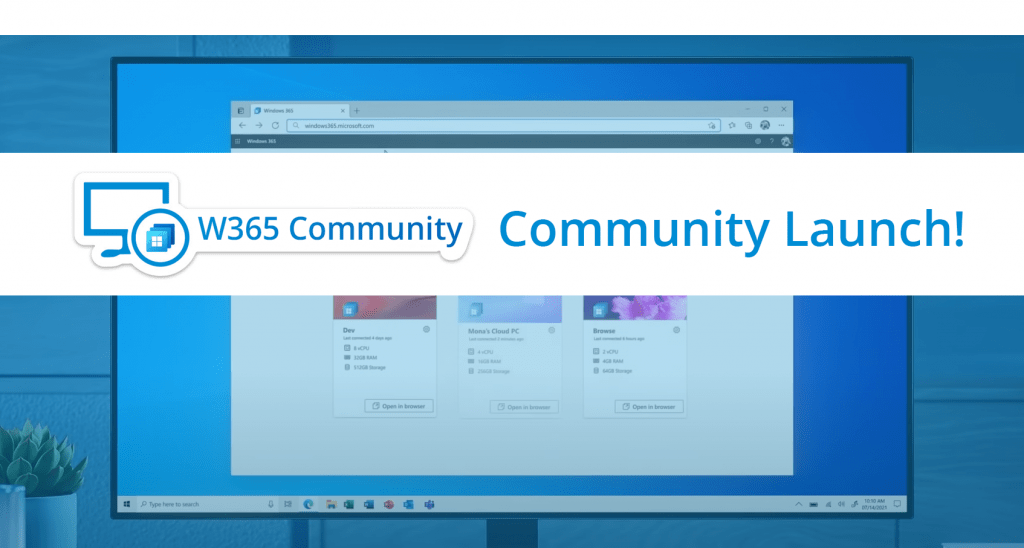 Introducing a new era of hybrid personal computing: the Windows 365 Cloud PC
Microsoft announced the new product category on 14th July 2021. The new cloud service called Windows 365 Cloud PC– a cloud service that introduces a new way to experience Windows 10 or Windows 11. You can get more details on Windows 365 & Cloud PC size recommendations.
We would also like to include some of the great Microsoft resources to help to start working on Windows 365.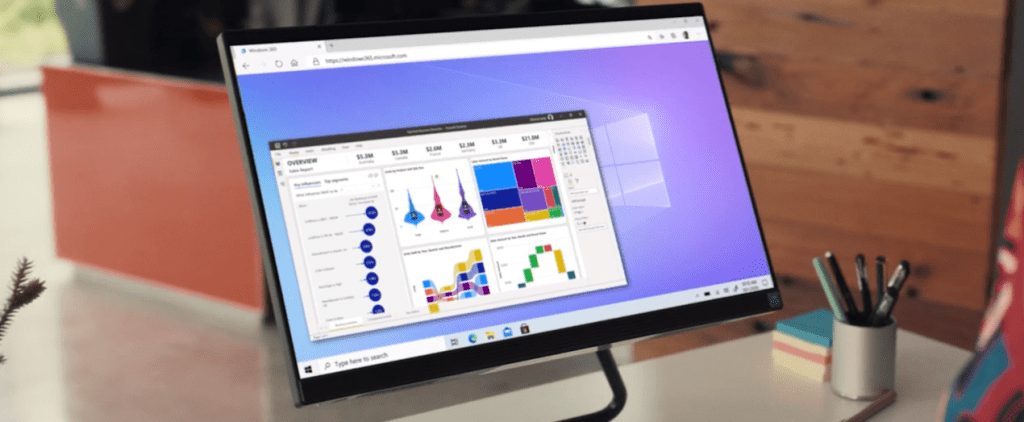 Windows 365 – The full guide
Patrick Köhler shared the full guide, which helps to complete the end-to-end setup of Windows 365 Cloud PC. Windows 365 is a great way to give users the freedom to manage their Cloud PCs to increase productivity, security, and collaboration.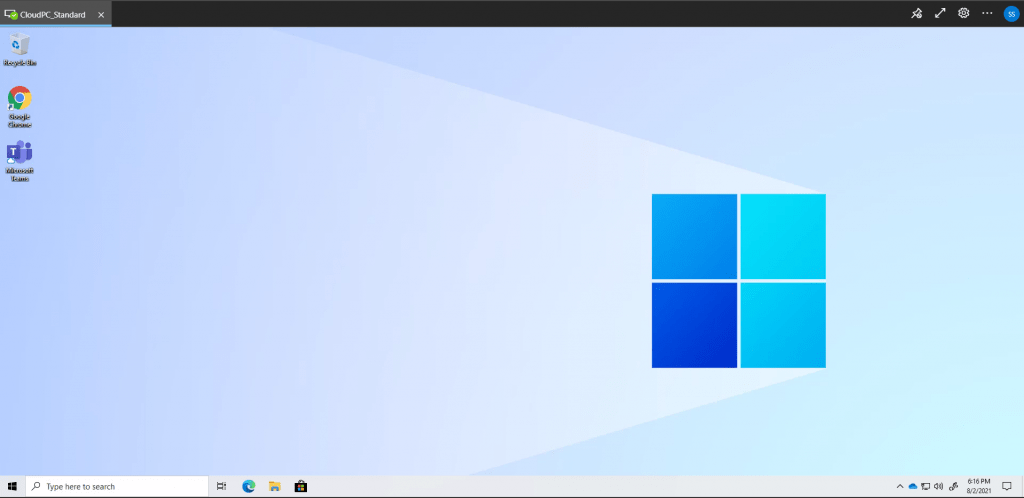 Introducing Windows 365 – The CloudPC
Donna Ryan explains about Windows 365 and how this greatly simplifies deploying Windows 10 (and soon Windows 11) desktops to end-users. Donna explains the differences between AVD vs. W365.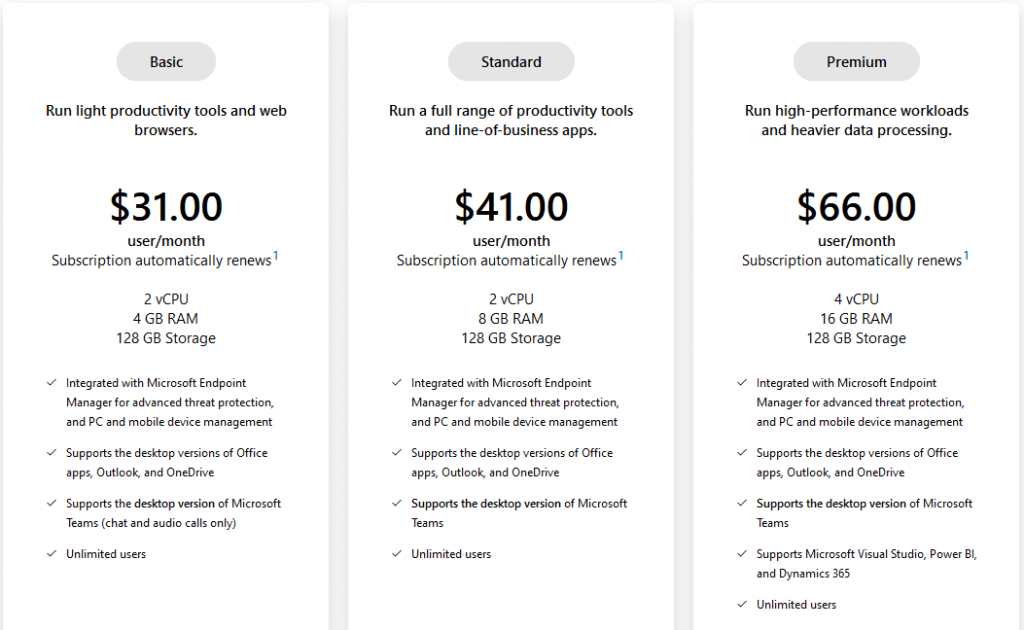 Windows 365 Web Client Portal
Anoop C Nair shares Windows 365 end-user experience. He also explains the basic minimum hardware and connectivity required to access Windows 365 personalized desktop from the cloud.
Harjit Dhaliwal and Anoop shared the comparison between the AVD Vs. W365 web client portals in their show called Namaste Techies.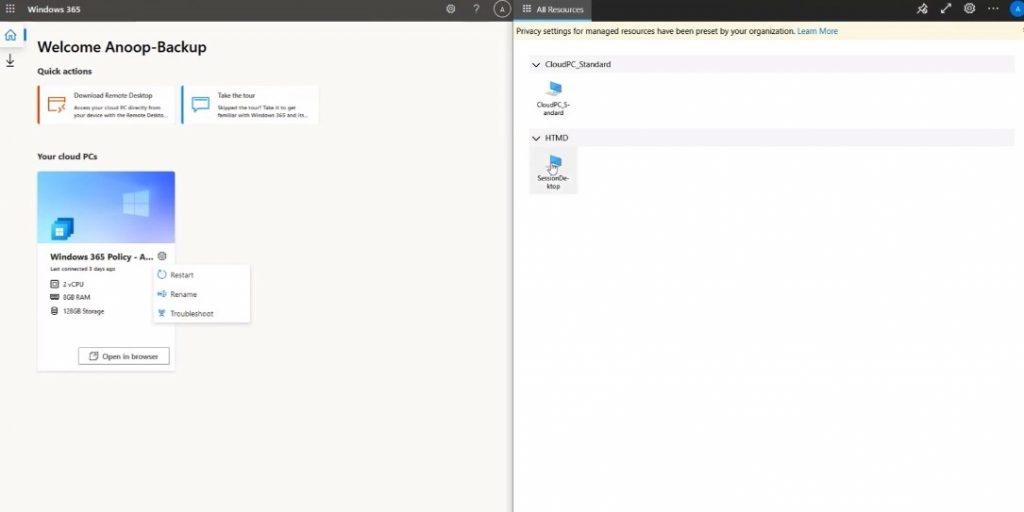 Mastering Microsoft Endpoint Manager – Windows 365 book price discount
Christiaan Brinkhoff and Per Larsen's book around Mastering MEM to learn to deploy and manage Windows 10, Windows 11, and Windows 365 on both physical and cloud PCs – has dropped in price for a short while. Amazon decided to give a discount before the book is ready for shipment soon!
One of the main reasons for the slow adoption of Modern Workplace solutions designed to simplify the management layer of your environment is the lack of understanding and knowledge of the product. With this book, you'll learn everything you need to know to make the shift to the Modern Workplace, running Windows 10, Windows 11, or Windows 365.
Mastering Microsoft Endpoint Manager explains various concepts in detail to give you the clarity to plan how to use Microsoft Endpoint Manager and eliminate potential migration challenges beforehand.
Mastering Microsoft Endpoint Manager: Deploy and manage Windows 10, Windows 11, and Windows 365 on both physical and cloud PCs: Christiaan Brinkhoff, Per Larsen: 9781801078993: Amazon.com: Books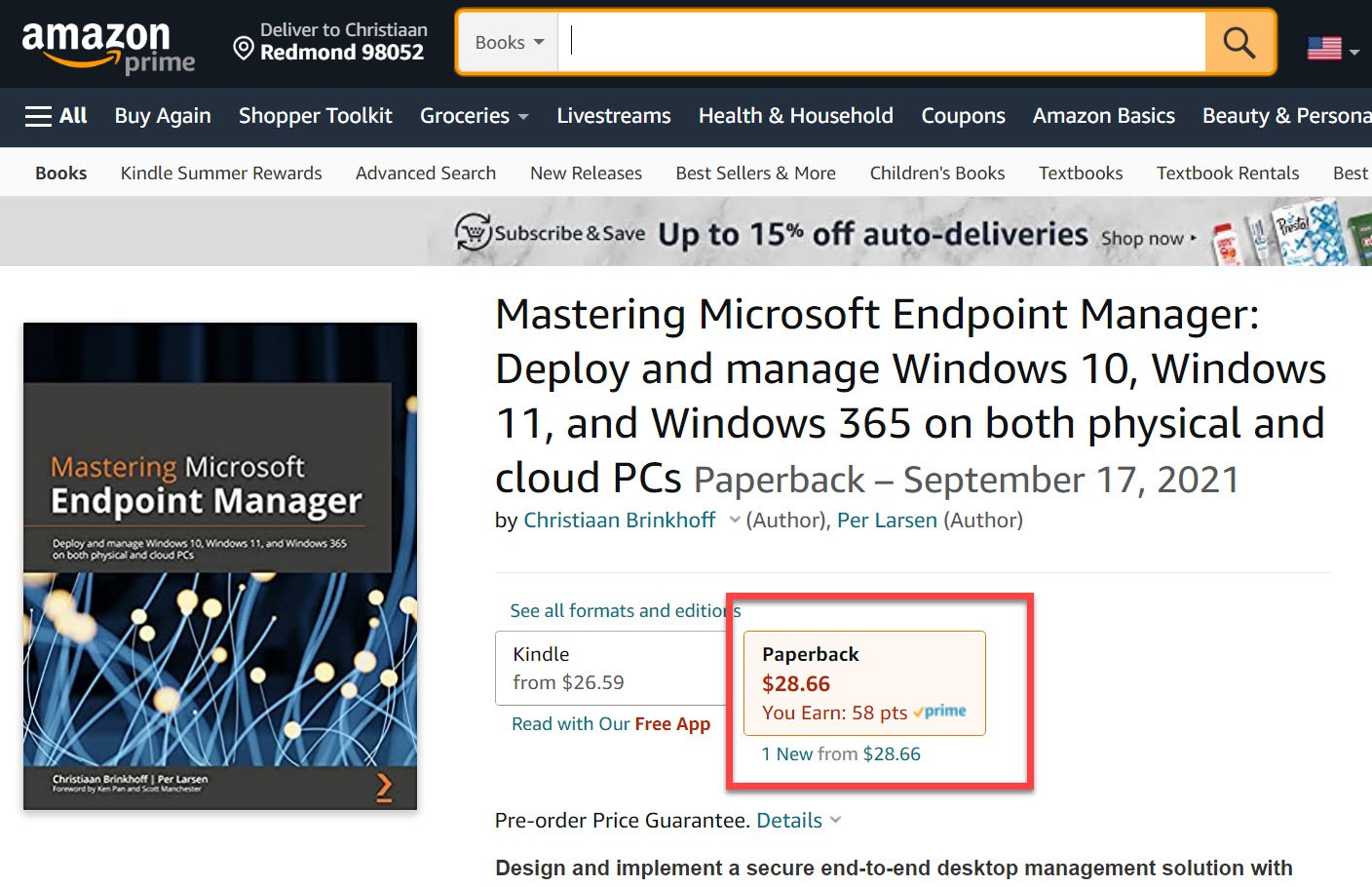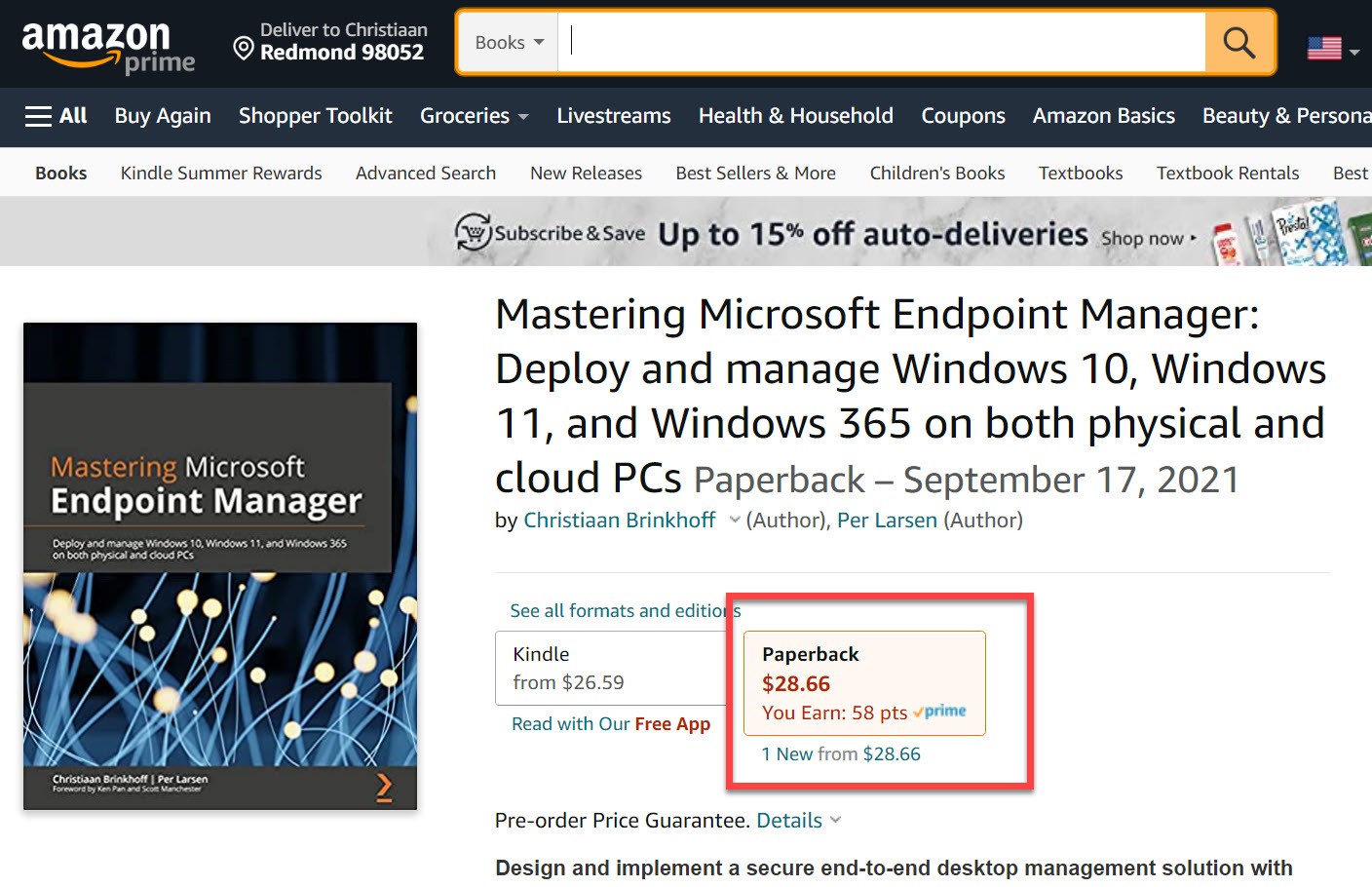 Windows 365 Performance Benchmarking
Ryan Mangan's article looks at the performance metrics of Windows 365, aka the cloud PC. The desired outcome of these tests was to understand the overall performance metrics, including limitations for a Cloud PC user.
Windows 365 Enterprise: Requirements and Walkthrough
Travis Roberts shared a video that goes over the requirements to be in place before deploying a cloud PC with W365. After that, we do a walkthrough of deploying a cloud PC for a user.
Windows 365 First Look with Christiaan Brinkhoff (I.T)
Adam Gross & Steve Hosking shared a video record with Christiaan Brinkhoff in which they talk about Mastering Microsoft Endpoint Manager book and Windows 365 Cloud PC offerings with some cool demos.
How to configure Windows 365 Enterprise in Microsoft Endpoint Manager
Sune Thomsen explains the end-to-end process of configuring Windows 365 Enterprise in Microsoft Endpoint Manager. He gives us quick feedback on the testing process of Windows 365, and that is "the prerequisites and requirements are met, Windows 365 was quite simple to configure and easy to use from both a web browser and remote desktop app."
How to add Admin Access to Windows 365 using Endpoint Manager
Anoop C Nair shares a quick walkthrough of this policy to add users to the local administrator group on their Cloud PCs using Intune Microsoft Endpoint Manager. The user settings policy is available part of Windows 365 in the MEM portal.